I want to start off by sending out a HUGE welcome to all of the new visitors who stopped by my blog yesterday.  Apparently my post about the new Weight Watchers 360° program was extremely popular. 
  I received about FIVE times the number of visitors I have on an average day.  I'm not going to delude myself into believing all of you will keep coming back, but I hope at least some of you will stick around and become a regular reader of my blog.
  I share quite a bit about my journey on Weight Watchers, so hopefully it will be something that would interest you as well since you were searching for info about the new program changes.
More Weight Watchers 360° Info
In case you didn't happen to read the comments on my post yesterday, my online pal Suzi pointed out in her comment that the new plan rolled out in Canada beginning today.  She also tweeted about it a few times yesterday and it sounds like she really likes the changes.  I took a peek over at the Weight Watchers Canada website and it looks pretty cool.  I'm looking forward to my meeting on Sunday even more now!
UPDATE Dec. 1:  If you came here looking for information about Weight Watchers 360, you might want to check my other Weight Watchers 360 posts!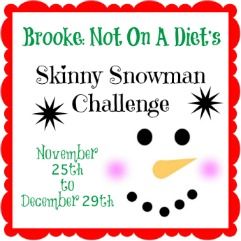 Skinny Snowman Challenge – Week 1 Day 3
Here's my recap of how things went yesterday for the Skinny Snowman Challenge:
Had a serving of veggies at all three meals (15 pts)
Had three servings of fruit (10pts)
Logged my food on the Weight Watchers website. (10pts)
Write down 5 positives about my day (5pts)

Went for a 30 minute walk (5 pts)
Did 30 minutes of stretching/yoga (5 pts)
Hit an all-time record number of visitors to my blog in a single day. Thanks!!
Was able to stock up on my favorite Hickory Farms Sweet Hot Mustard that is only available this time of year.
Started the ball rolling to have a meet-up with several blogging friends in a couple of weeks.

Drank 80 ounces of water (10pts)
This gives me a total of 60 points for Day 3.  Adding that to my previous total, I'm now at 190 points out of a possible 450 points for the week.
I also wanted to give a special shout-out to Brooke.  She emailed all 125+ participants of the challenge today just to make sure everything was going OK and to find out if we had any questions.  That was so sweet of her and I'm sure took quite a bit of time!
Until next time …
P.S. – This post is part of my on-going participation in the National Health Blog Post Month challenge.