Goal Setting
I hope no one faints or anything, but I'm actually going to use one of the writing prompts that were suggested for today as part of the National Health Blog Post Month challenge.
  I know … I know … why start now when there's only two days left for the month, but I just really liked this particular prompt because it's all about goal setting.
"If I could accomplish one thing (anything) in 2013 it would be…"
Of course, when it comes to goal setting, my mind starts going at about 1000 miles per hour.  I immediately think about about 5-6 things without even batting an eye.  I start thinking about how much weight I would like to lose next year, what walking events I'd like to finish (5k, 10k, 15k, half marathon) professional certifications I'd like to earn for my career, finishing my degree, paying off my credit cards, etc.
See, I had no trouble coming up with a laundry list of things from which I could easily select one goal.  This is what I tend to do every New Year.  I set a crap load of goals and then end up actually accomplishing very few of them because I'm trying to do too much, so I knew narrowing this down to just one goal would be great for me!
After spending a few minutes trying to think of the perfect goal to set for myself for 2013, it hit me.  THAT needs to be my goal.  I need to start learning to let go for the perfectionism.  It leads me down a road of all or nothing thinking and that doesn't serve me well AT ALL.  It leads to lots of frustration, self-loathing, and traps me into a lot of negative thinking.
So, if I could accomplish one thing in 2013, it would be to learn to let go of the perfectionist ideals to which I hold myself.  I don't have to be perfect at everything I do.  One meal off track from my Weight Watchers eating plan doesn't have to turn into two weeks of out of control eating because I'm feeling down on myself for "messing up" at that one meal.  (NOTE: From what I'm hearing, I think the new Weight Watchers 360 plan might help me quite a bit with this one since it's all about behavior changes!)  Falling short of my goal pace in a 5k doesn't have to turn into days of doing no activity.  I just need to learn to "forgive" myself and move on without getting completely derailed.  I think so many of the areas of my life that I want to work on hinge on tackling this issue.
What about you?  If you could accomplish one thing (anything) in 2013, what would it be?  Feel free to blog about it and link back with a comment.  You can also just leave your thoughts in a comment below if you don't want to blog about it.
Weight Watchers 360
I found some more teaser information for you guys!  David Kirchhoff, CEO of Weight Watchers International, wrote a bit about the new program a few days ago on his blog, Man Meets Scale.  BTW, if you're interested, you can also follow David on Twitter (@dkirchhoff)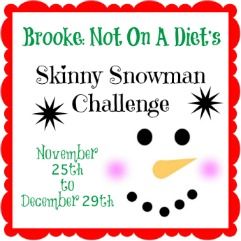 Skinny Snowman Challenge – Week 1 Day 4
Here's my recap of how things went yesterday for the Skinny Snowman Challenge:
Had a serving of veggies at all three meals (10 pts – missed breakfast today)
Had three servings of fruit (10pts)
Logged my food on the Weight Watchers website. (10pts)
Drank 80 ounces of water (10pts)
Did 30 minutes of stretching (5pts)
Write down 5 positives about my day (5pts) – I decided to be a bit more creative today and put my five positives into an image.  I had kind of a crappy day, but I'm trying to make the best of it by turning some of my negatives/potential negatives into positives instead.
This gives me a total of 50 points for Day 4.  Adding that to my previous total, I'm now at 240 points out of a possible 450 points for the week.
Until next time …
P.S. – This post is part of my on-going participation in the National Health Blog Post Month challenge.