Wow, I can't believe it.  November has come to and end which means so has my participation in the National Health Blog Post Month challenge.  This month has just flown by!
NHBPM Challenge Recap
Even though I started this challenge with the best of intentions for meeting the challenge, I honestly had no idea of I would be able to do it.  The challenge included two "get of of posting" free days, but I still wasn't even sure if I could blog for 28 days.
Well, I did it!  In fact, I only missed one day during the month, so I actually made it for 29 of the 30 days.  There have been many days (much like today) when I don't get my post up until after 9pm PT, but I got them up.  There were many days I didn't follow the suggested prompts, but I pretty much always kept my posts health-related in keeping with the theme of the challenge.
As an IT manager, my natural inclination is to now do a bit of a postmortem/lessons learned from the challenge.  I go through this process with any large project at work, so it just seemed like the thing to do now.  With that in mind, here's what I've learned from participating in this challenge:
I've missed writing.  Don't get me wrong, as a person who works full-time and is also a college student, I do lots of writing.  It's just not the same as when I make time to blog on a consistent basis.  There's just something powerful about taking time to write about my life, my health/weight loss journey, etc.  It's so much easier to stay focused when I take time to reflect and write.
I like variety.  While I tried to give some variety in my posts from day-to-day, I still felt very confined by sticking to only health-related topics.  I like to write about a lot of different things.  I like to write about my hobbies.  I like to write about things I'm doing with my friends.  I like to just write about whatever is on my mind on any given day.  Sticking to just health-related posts every day for a month made me feel constrained and I didn't particularly care for that aspect of the challenge.
I have awesome readers/friends!  You guys have been so awesome as I've been going through the challenge by sending me little notes of encouragement.  Some of you have left comments.  Some of you have sent emails.  Some of you have hit me up on Facebook and Twitter.  I appreciated each and every one of them, and each and every one of you!  Thanks!!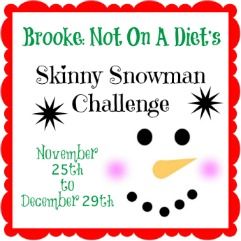 Skinny Snowman Challenge – Week 1 Day 5
Here's my recap of how things went Thursday for the Skinny Snowman Challenge:
Had a serving of veggies at all three meals (10 pts – missed breakfast … again )
Had three servings of fruit (10pts)
Logged my food on the Weight Watchers website. (10pts)
Drank 72 ounces of water (10pts)
Write down 5 positives about my day (5pts)

Even though I'm still a bit sore from my fender-bender, I took 30 minutes to do some yoga (5pts)
Received a case of Yoplait Greek 100 yogurt that I won in a giveaway from Jennifer at It Sux to Be Fat
Got to spend some time talking on the phone last night with one of my BFFs.  She had been out of the country on business, so we didn't get to talk for a few days.
Got a new high score of 789,400 in Bejeweled Blitz.  Yeah, I know.  It doesn't take much to make me happy.
This gives me a total of 55 points for Thursday.  Adding that to my previous total, as of Day 5, I'm now at 290 points out of a possible 450 points for the week.
Until next time …
P.S. – This post is my final installment of my on-going participation in the National Health Blog Post Month challenge.