Happy Wednesday, everyone!  I can't believe it's time for another Wednesday Weigh In again already.  I had every intention of getting a post up a couple of days ago, but life has been so very busy this week.  I guess that's what happens when one is away from work for about 10 days.  Part of that time was spent on vacation in Vegas with a few friends, but the bulk of it was missed while I was home sick last week with the flu.  When I finally made it back to work on Monday, I had nearly 700 emails and about 20 voicemails to sort through as quickly as possible before the onslaught of meetings hit.  I've been so mentally drained by the time I get home in the evenings that I've barely even been checking in online, much less having the mental faculties to try and actually compose a blog post.
Even though I was sick all of last week, I did manage to get out on Sunday morning and make it over to my regular Weight Watchers meeting.  I really wasn't expecting much in the way of a loss because I had just weighed in four days earlier on Wednesday since I missed my regular meeting the previous Sunday while I was in Vegas.  On top of that, I had been consuming a LOT of canned soups while I was sick.  Well, I was pretty much right in the expectations department.  I was down 0.4.  But hey, that's nearly a half pound even with it being such a short week and all the sodium from the soup, so I'm calling it good!
Even though my losses at Weight Watchers over the past couple of weeks have been smaller than normal, I'm actually pretty pleased with how I've been doing, especially between all the restaurant food I ate in Vegas and the aforementioned quantities of canned soup.  Both of those can be killers in the weight loss department, but I managed to successfully navigate my way through my mine fields and have a loss both weeks.  How did I do that?  By not giving in to the lure of Vegas buffets and making smart food choices instead!  Here are a few examples:
El Pollo Loco – Grilled Chicken Salad with Light Creamy Cilantro dressing (8 PointsPlus).
Bahama Breeze – Simply Grilled tilapia with cinnamon mashed sweet potatoes and green beans (13 PointsPlus).
Hard Rock Cafe – ordered a la carte – Grilled chicken breast with steamed broccoli and a side of fruit (6 PointsPlus).  Sorry this photo isn't that great. It was really dark in the restaurant and I didn't want to use my flash and disturb other diners.
While I know it's really easy to give in to all of the food temptations when traveling, especially in Vegas, it is possible to make good food choices most of the time.  Don't get me wrong, I did indulge a bit one day.  We went to Famous Dave's and I had a lunch-size combo with brisket and a piece fried cod with a couple of sides.  It was DE-LISH!  The big difference from times past, I actually tracked all of it and counted the PointsPlus values for everything (35 PointsPlus for that meal, just in case anyone was wondering
).  Yep, that's right, I tracked 100% of the food I ate while on my mini vacation.  If I can do it, so can you during your next vacation!
Speaking of which, did you know Applebee's has lots of great options on their menu for someone who wants to eat out and still keep their calories & fat consumption to a reasonable amount?  I had the opportunity recently to test out their updated Under 550 menu for a review over at The Sisterhood of the Shrinking Jeans.  You can read all about my thoughts over there, but I'll leave with a teaser pic of this amazing Roasted Garlic Sirloin dinner I had (12 PointsPlus for the whole meal!).  Oh yeah, and there might be a giveaway going on with that post, too.  Just sayin' …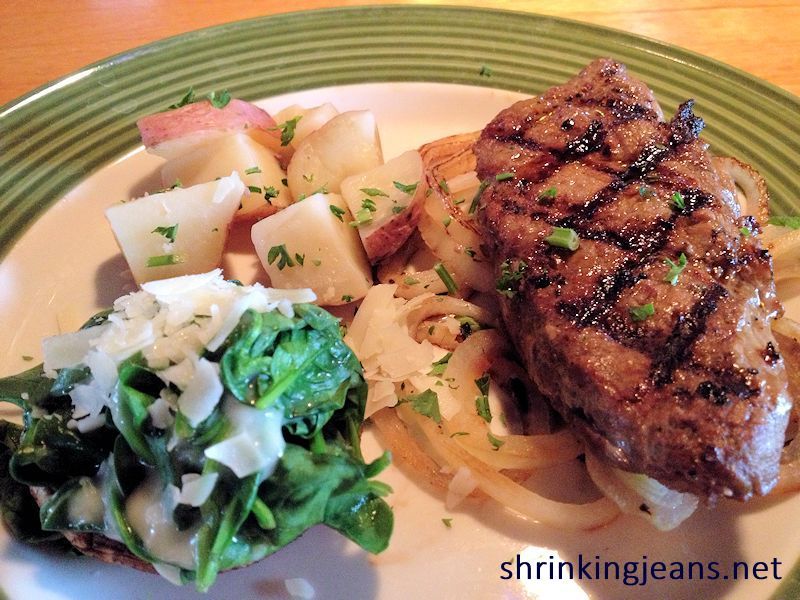 Until next time …